Progress!
The quilt I'm currently working on is the largest I've ever spray basted. It's 80″ x 96″ which also makes it the largest quilt I've ever quilted on my Baby Lock Tiara III.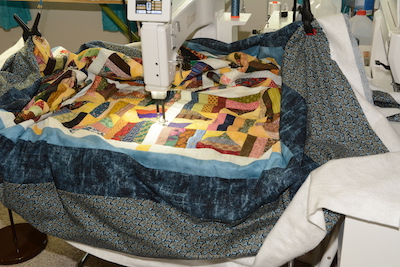 3 of 12 blocks quilted, progress! The process of basting a large quilt was a bit challenging.
Sunday, my grand daughter, hubby and I had a little picnic on the picnic quilt she designed.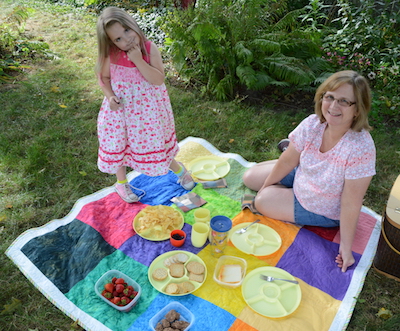 Fresh fruit, cheese & crackers, chips, home made cookies & OJ. Sweet times with my grand daughter!
Last to-do list:
Quilt Fence Rail Star quilt for nephew's September birthday. ✔️ A work in progress!
If time allows, create thank-you postcards. ✗ Didn't get to these this week. I'll get back to the postcards once I finish the Fence Rail Star quilt.
To-Do List:
Got to stay focused on the Fence Rail Star quilt!
Linking to To-Do Tuesday hosted by Home Sewn by Us. Christine of Sew All the Things has handed over the link up party To-Do Tuesday to Sue & Roseann of Home Sewn by Us. I met and followed Christine in the blogging world before she started hosting To-Do Tuesday 5 years ago. I will miss her weekly posts. Cheers to Christine and her new adventures, and Cheers to Sue & Roseann as they take on hosting the To-Do Tuesday party!