I've been quiet for a few weeks because Husband and I have been out of town helping our son prep his house to list for sale. The For Sale sign should go up this week! Son and fam are moving back to our town Wednesday. That means I better fit in some sewing while I can!
I pulled out a BOM that I started in February, deciding I better get going on it as the online lessons are only good for one year. I only have 2 months completed.
I'm following Jodi Barrows' Square in a Square method using her template.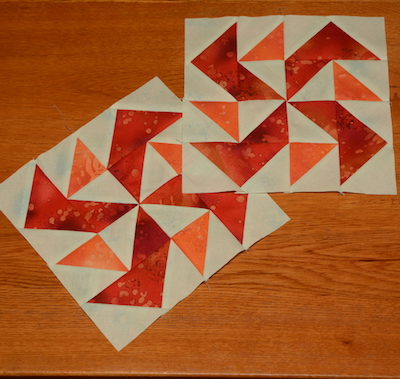 These blocks are from Jodi's book _Letters to a Soldier_ and the block name is Yankee Blockade.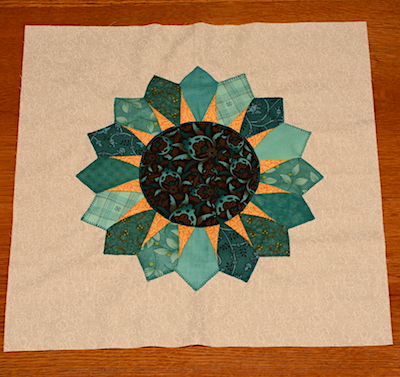 This Dresden Plate block is one of three and an UFO started in 2015. I finally sat down and machine blanket stitched around the center circle and outer points. All three blocks are now stitched. My plans are to turn them into a table runner.
This week, if time allows, I'm going to sit down and attempt to learn how to use the Monogramming function on my Janome so I can make a quilt label. Yep. I've owned this machine for 3 years and have not taken the time to figure out the monogramming program yet. It's time to do that!
Do you have fancy functions on your machine you are not using? Monogramming is just one function I hope to take the time to learn this summer.
How did I do on my last To-Do List:
Machine stitch Dresden Plates in place, table runner project. ✔️ Machine blanket stitched.
Sandwich & quilt Dr. Seuss themed baby quilt.  ✔️ Delivered for auction.
This week's To-Do List:
Son and family moving back to town. Which means, I'm cleaning kitchen and bathrooms before moving van arrives.
Which also means I'll be helping them settle in: child care & maybe some unpacking.
Figure out how to use monogramming function on my sewing machine.
Continue Square in a Square BOM.
I'm linking to To-Do Tuesday and Linky Tuesday.