After a false start, the quilt for my second grand baby is coming along nicely.
I was thinking trees would work well with this Forest Fellows panel.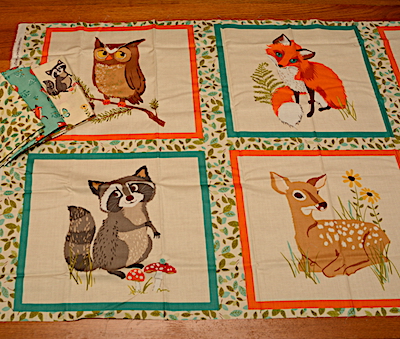 My first thought was trees made from flying geese units, but then my eyes fell on this pattern by Cut Loose Press called Crazy Christmas Trees.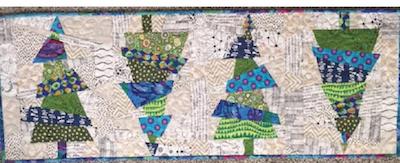 (photo from Cut Loose Press)
I bought this pattern earlier in the year and have it hanging in my sewing room with the Spider Web ruler, waiting to be made! Ha! Maybe that will happen for Christmas 2018? Anyway, I thought those trees might look nice added to the Forest Fellows panel and I made up a set of 4, thinking I'd use 3 on the front and put one on the back.
But when I laid the trees out with the panel, they just did not seem to match the 'feel' of the panel.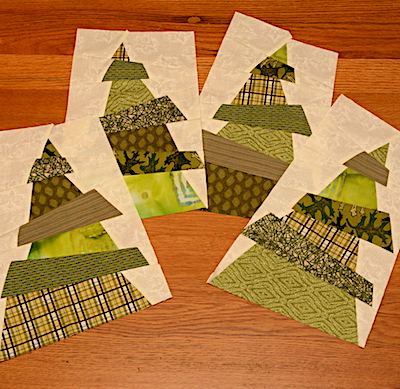 Back I went to my FIRST and original plan of making trees from flying geese units!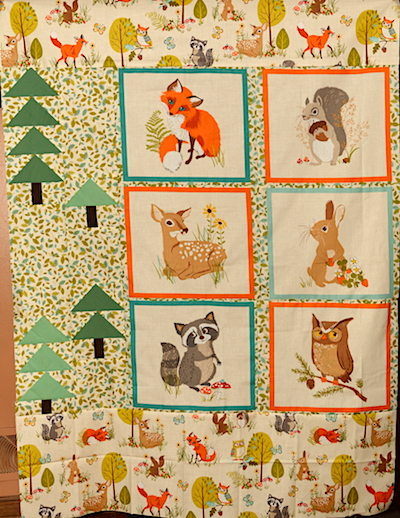 Much better! I'm pleased with how this is looking! I have some teal flannel that will make a nice comfy back.
Today I squeezed in a last minute project for a friend living in a nursing home: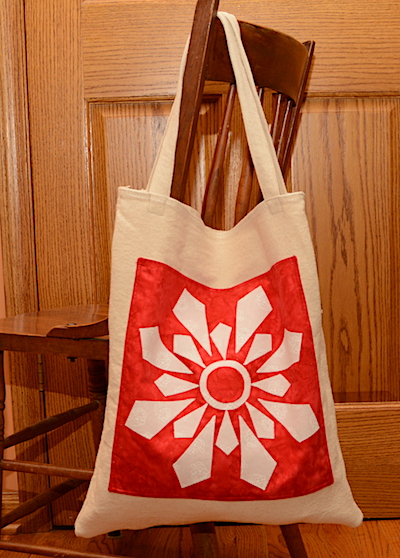 I was invited to the Christmas dinner held tonight, and didn't want to show up empty handed. Using the snowflake block from I Wish You a Merry Quilt-A-Long, I stitched up a canvas bag and turned the quilt block into a pocket. My friend said she will wait and open the gift Christmas day. I hope she likes it!
Last Wednesday I had a little sewing time with quilty friends. I decided to take along the Chic Country quilt in progress. I was pleased with the few hours of sewing and the blocks coming together for this quilt. I had first thought I'd take along the panel and some fabrics to work on the quilt for grand baby #2 but thought it would take too much brain power. You know, when you get together with friends it is lots of talking and laughing, so more mindless sewing is best!
Are you working on any last minute gifts?
How did I do on last week's To-Do Tuesday List?
Work on sewing Chic Country blocks.  ✔️ I didn't count, but I got several sewn together.
Make baby quilt for grand baby #2 who will be arriving on or about January 6th.  ✔️ Top made, pictured above!
This week's To-Do List:
Prep back for baby quilt.
Pack for get-away with Husband!
Linking to To-Do Tuesday and Linky Tuesday.