Happy Thanksgiving, Friends!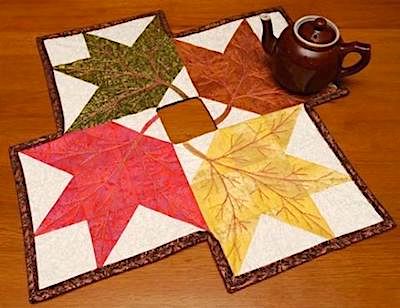 Our trees are all but bare here in the Midwest. So maybe this table topper will add some Autumn color for Thanksgiving Day. This is not a new quilt, but one of my favorites.
Looking over my to-do quilting list from last week, I think I obviously made up the wrong list! But, thankfully, I did get a few new things moving along!
First, a dear friend's birthday is Wednesday. I saw a cute little quilt on Marie's Quilts that included quilt piecing around a cross stitched design. I started with the butterfly scene stitched by my Mom.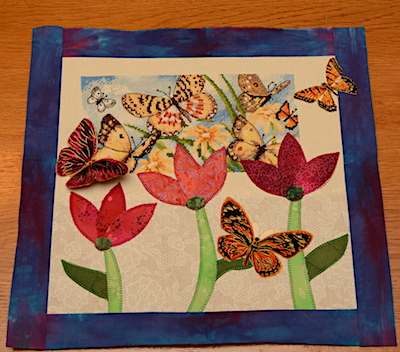 Last year, sadly, my mother became a permanent resident of the dementia unit at the retirement home where my parents have lived for the past 10+ years. We are thankful for the good care she is receiving and that Dad can visit her everyday. Sis and I helped Dad with some cleaning out and downsizing. I brought home some of my mother's cross stitching & needle work. When I saw Maria's post of how she put together her needle work and quilting, I knew that was what I wanted to do with some of my mother's pieces. Please follow the link above to see Maria's gorgeous Home Sweet Home quilt!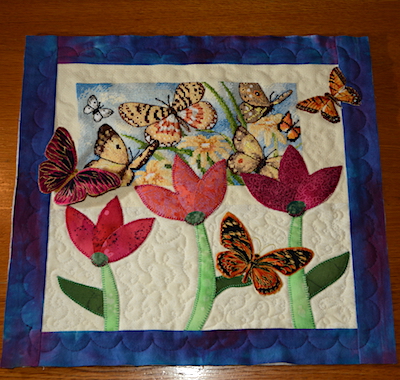 I'll be gifting this to my friend who loves pinks, purples, and butterflies. Since the butterfly needle work did not have pink or purple, I added appliqué flowers in a range of pinks. I made and added a 3-D butterfly, and appliquéd some orange butterflies in keeping with the needle work. I hope it all works together. Quilted, but still needs a binding.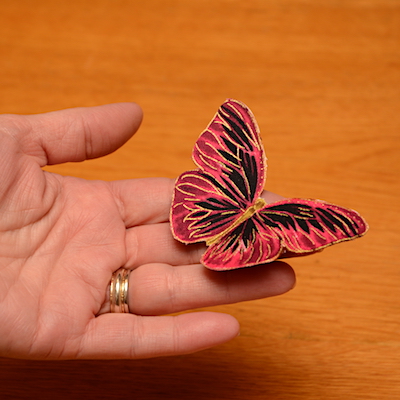 Close up of 3-D butterfly.
Next, not on my to-do list, is a table runner for my Daughter-in-law. She & fam will be visiting for Thanksgiving and staying through the weekend. Friday is her birthday. Making a table runner as a birthday gift was added to the list! She had asked if I would make a runner for to protect her cedar chest that is placed at the end of their bed. Grand daughter, 2 years old, climbs up on the chest to then climb up on the bed.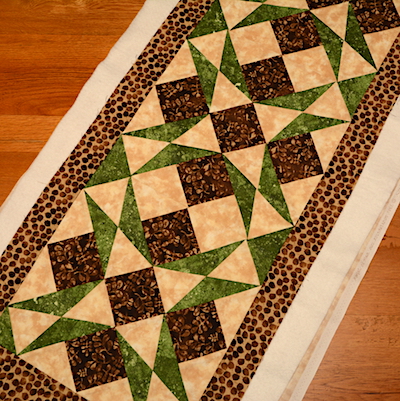 Leftover blocks came in handy for this runner. Pieced and basted, and quilting started today. I'm thankful I have one more day to work on it before they arrive from out of town!
I wish you many thankful days and many blessings for you and yours!
How did I do on last week's To-Do List?
Continue with stitching petal units for the Chic Country quilt top. ✗
New commission – 5 polo shirts to be made into pillows. ✔️ Pillows completed and ready to be delivered.
Squeeze in some quilting on the queen size quilt. ✗
To-Do Tuesday List for this week:
Quilt, bind and gift table runner.
Bind butterfly quilt to gift next Thursday
Enjoy Thanksgiving with family & friends!
Linking to To-Do Tuesday and Linky Tuesday.