I accomplished only one little quilt-y thing this past week.
I made this block,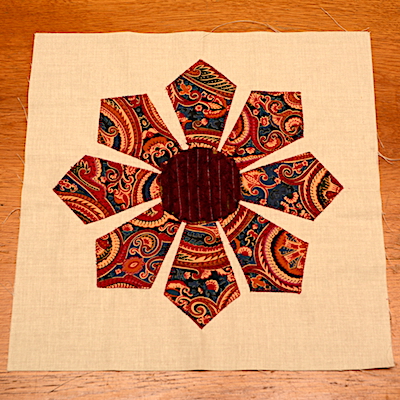 thus catching me up on the FB Sitdown Freemotion Quilting Group BOM. It's a 9 1/2″ finished appliqué block with a chenille center. I fudged. It was supposed to be reverse appliqué, I just did fusible. The chenille was supposed to be homemade, but since I had some scraps of store bought I just used that. I'm saying Done! and glad to be caught up. Next is sewing all the blocks together. Instructions due to come out on the 15th.
If you are interested in why so little sewing happened here this past week read on. If not, skip to my To-Do list and see ya next week! For those of you still reading, what happened was I came down with bronchitis, and all the coughing wore me out. I thought I was having a bout with Fall allergies, but also had a painful stuffed up ear, so made an appointment to see my family doctor. She said bronchitis. Boy was I surprised. So strange because I was concerned about my ear, thinking the coughing was just allergies. Anyway, coughing is diminishing, but the ear is still stuffed and ringing non stop. Hoping meds kick in soon to take care of that ear! It is very Ear-itating!
Yesterday, I did sandwich the next quilt I'll be FMQ for a friend. So, I did check that off as progress on last week's To-Do list.
How are you doing? Staying well, I hope!
How did I do on last week's To-Do List?
Continue with cutting & piecing Chic Country.  ✗ Didn't touch it, but happy that the fabric came!
FMQ friend's quilts. ✔️ I'll check this as I'm counting sandwiching as progress.
To-Do Tuesday List for this week:
I'm setting aside Thursday to work on Chic Country.
FMQ friend's quilt.
Spend some time with my quilty  friends.
I'm linking to To-Do Tuesday and Linky Tuesday.