Thursday I hosted my Curvy Quilters group. I worked on stitching up more improv piecing and completed the 80 triangles needed for the Facets quilt I'm making for my son. Next up is cutting the background triangles. Pictured is the light blue that will be the background, two piles of the improv piecing, and a pile of dark blue Batik triangles.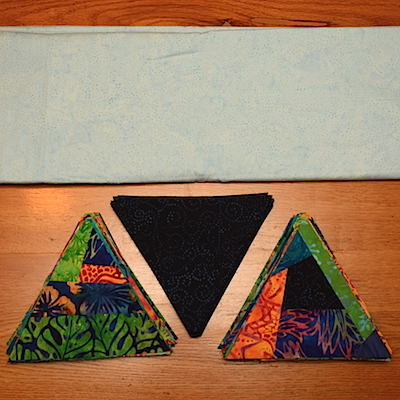 As time allowed this past week, I also worked on quilting my Jolene Star table topper. I quilted it with Fantastico 40 weight variegated pink thread color number 5031 by Superior Threads. This thread was in a sampler bag I bought and I do like it! Bobbin thread was The Bottom Line 60 weight, Taupe, also by Superior Threads.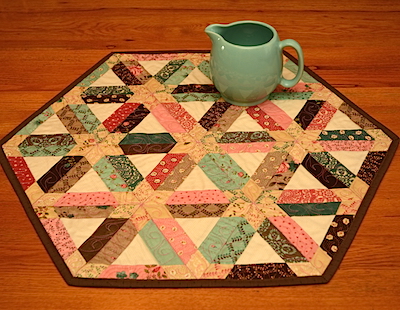 I used a design from Lori Kennedy's new book Free-Motion Machine Quilting 1-2-3, Open Spiral Leaf on pages 70-71.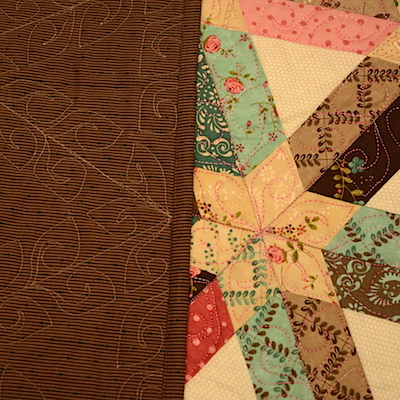 Tension is just a little off on the back. Sigh. I will have to keep working on that. I do like the design though, Open Spiral Leaf. I practiced drawing it out on paper, then quilted on a practice sandwich, then bravely moved on to the quilt! It's not perfect, but I like it.
I think I'm improving on my Free Motion quilting skills, which is a goal of mine for this year. How about you? Are you working towards improving in any areas of quilting this year?
How did I do on last week's To-Do List?
Part 4 of my OMG is to quilt another table topper – Jolene Star. ✔️ Quilted and binding attached!
Thursday I meet with my Curvy Quilters group. I'll be working on more improv piecing for the Facets quilt. ✔️I have all the improve triangles completed!
Enjoy time with family. I don't think I'll be fitting in any more sewing/quilting this coming week. ✔️ We had a great time with family and I sewed up 3 curtains for my daughter's new home!
This week's To-Do List:
Cut background for Facets quilt.
Continue quilting In Box Jaunt Quilt-Along. I'm falling behind on this one, so hope to catch up.