Just in time for Christmas, I have three finishes this past week.
One was a rush t-shirt job for a customer. She had the shirts all prepped, so I only had to do the piecing with sashing. Then it went to the longarm quilter and back to me for binding. She picked it up Sunday and was pleased with the results. I was pleased to make a little extra cash right before Christmas!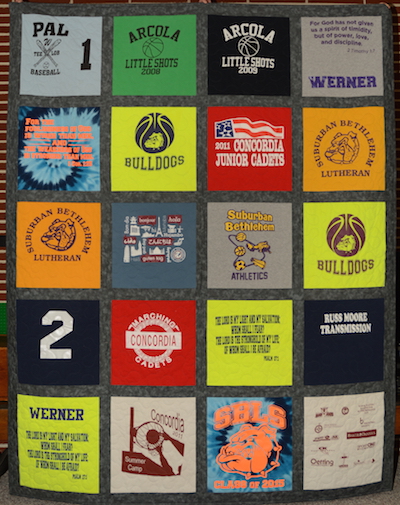 The second finish is the quilt I've slowly pieced over the past 2 years. I only worked on it at my monthly quilting group – the Timeless Tradition quilt. This past week I did the quilting on a friend's longarm. It was so nice of her to volunteer the use of her machine for the quilting.  I'm more used to sitdown quilting on my domestic machine, so it was a totally different feel using the longarm. Completely different process too, other than pulling the bobbin thread up to the top when starting to quilt! The quilt is in the mail to be gifted to my brother and sister in law for Christmas!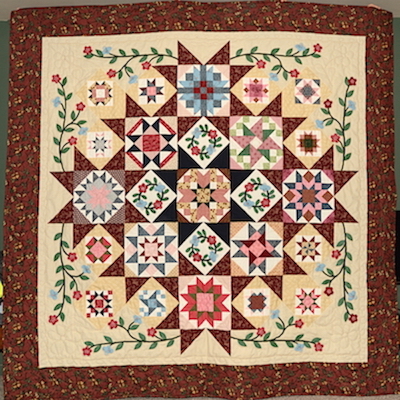 And, I'm so pleased that I kept with my goal of using fabrics from my stash for Timeless Tradition! Even the border, back and binding, all from my stash!
The third is a little quilt made from a panel that I added HSTs to the sides making it large enough for a wheelchair lap quilt. It is in the mail as a gift for my mother.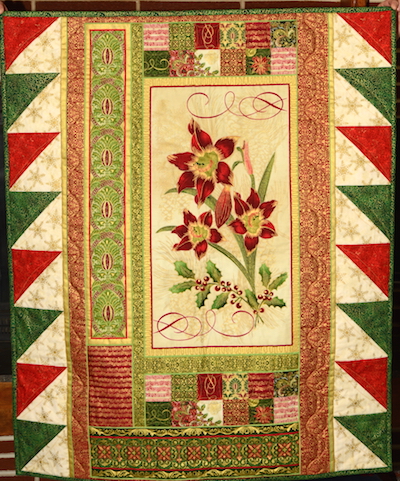 I've added on more project to my Christmas to-do list! Crazy right? I wanted to make a little something for my daughter in law's parent's as they will be visiting from Arizona. After talking my ideas over with my daughter in law, we settled on a Christmas themed pillow. I just happened to have an orphan Wreath block that I am turning into a pillow. Next up – making red piping for the trim. Then I have grocery shopping and a little prep for our Christmas meals.
I'm feeling relaxed and in control. How about you? Are your Christmas & Holiday plans coming together with out all the crazy stress? I hope so!
How did I do on last week's To-Do Tuesday List?
Piece new t-shirt quilt ✔️ Pieced, quilted, bound, and returned to owner!
Keep plugging away on Timeless Tradition appliqués. Hopefully get to borders. ✔️Completed, boxed and mailed today!
Find that flannel for the pj bottoms! ✗  I might need to buy new fabric.
To-Do Tuesday List for this week:
Finish a pillow to gift Christmas morning. Should be doable because I found an orphan Wreath block to use for the pillow top!
Grocery shopping for Christmas day eats.
Enjoy Christmas Eve with church family, and Christmas day with family!
Merry Christmas everyone!
I'm linking to To-Do Tuesday and Linky Tuesday.