This is the last month for Sandy's One Block Wonders Block of the Month. I've used her September BOM paper pieced pattern to make a 26″ square table topper.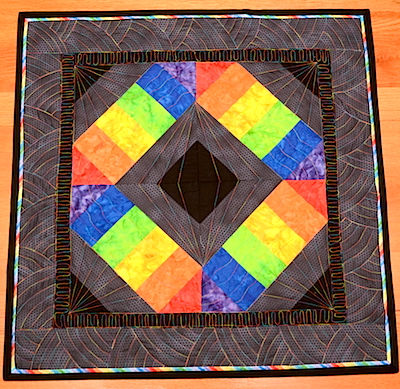 I decided to be brave and just jump in there with a rainbow variegated  thread to keep the theme going with the fabrics and now thread. 40 weight King Tut by Superior Threads, color # 921.  This thread might have been part of a "Try Me" package from Superior Threads, as I don't think I'd order something like that with out a particular project in mind. The rainbow thread is really popping on the black and gray fabrics. I knew mistakes would be very visible, but I have to get over it and just practice, practice this FMQ if I'm ever going to succeed!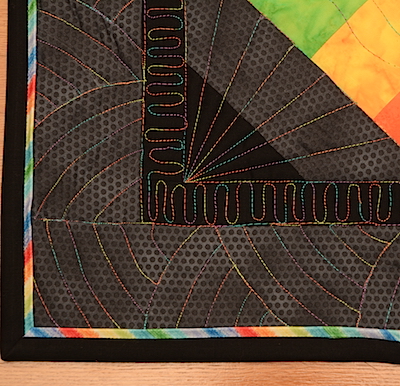 Close up of one of the corners. I was just playing with designs, and no, I didn't have a good plan for turning the corner.
Do you like the rainbow fabric I used in the flange binding? I'm loving it!
The rainbow fabrics are from Be Colourful Color Palette by Jacqueline duJonge for Anthology Fabrics. Purchased from Pumpkinvine Quilting during the Shipshewanna Shop Hop back in June. The black is most likely a Moda, and the gray is A Hint of Print by Molly B's Studio for Marcus Fabrics. Since  I only bought 1/4 yard of the rainbow stripe, I don't know the name or manufacturer. (Not enough selvage to gain that info!)
Last Thursday I went on a Shop Hop with 3 quilt-y friends. We visited 6 stores in 9 1/2 hours! Caroline's Cottage organized the shop hop and there were sales/specials at each store.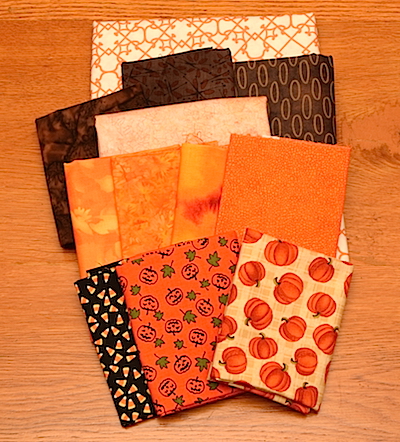 I picked up some fabrics for a pumpkin design I hope to make this Fall.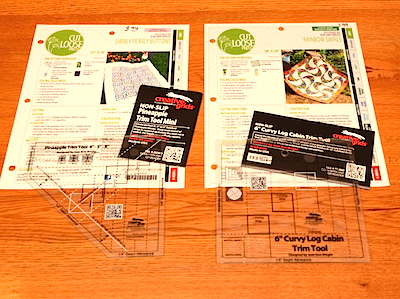 And I bought 2 more rulers and patterns. I really should have resisted, but the sale was too good to pass up! Clearance at one shop, and 25% off at another. I'm turning  in to a Gadget Girl, and I'm thinking 2017 is going to have to be a "Play with all the Gadgets" type year!
How did I do on last week's Tuesday To-Do List?
Shop Hop with friends Thursday! ✓ We had a marvelous time!
Mark and quilt September's block for the Machine Quilting Block Party. ✗ Nope, but I did finish the One Block Wonders BOM.
Start Christmas Tree Skirts. ✗  Does buying a few more fabrics for them count? Because I did that during the Shop Hop.
I'm hoping the long arm quilter calls to say the Bargello quilt is ready to pick up! If so BIND!
Two big events are happening this weekend. My parents 65 wedding anniversary and my niece's wedding! I won't be getting any sewing done this weekend!
Tags: One Block Wonders BOM