Finally! 3 finished tops this week! They have been a long time coming!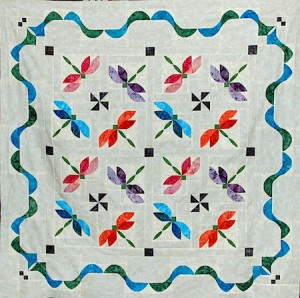 Dance of the Dragonflies, a Southwind Designs pattern. This was made for Fabrics and Friends Quilt Shoppe owner, Deb Roehm. I'm hoping to show the technique as a demo sometime in the future at the shop. Perhaps a quilt from the Southwind Designs line could even be a future class at Fabrics and Friends.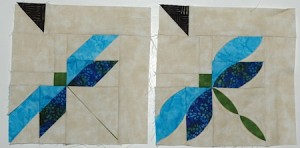 The block is sewn together using squares and rectangles and dimensional squares folded diagonally and stitched into the seams. Once all pieced, you go back and fold the dimensional pieces and stitch the curves in place. The technique is a bit time consuming, but gives a nice finish affect!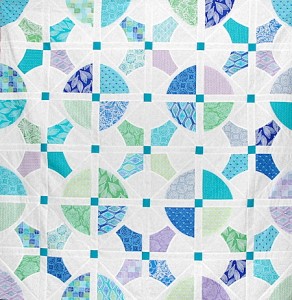 This is Dot to Dot, a pattern using the Quick Curve ruler from Sew Kind Of Wonderful. I have to tell you, I love that ruler! This is the third of four quilt tops I have completed with the Quick Curve ruler. Plus I've sewn up several other blocks from their pattern line for demos at Fabrics and Friends Quilt Shoppe, Roanoke, IN. I used Moda's Horizon by Kate Spain Layer Cake for the prints. I've made one for the shop and will be making one for me too! The top is 56″ square. You only need 18 – 10″ print squares for this size top, so that means 2 from one Layer Cake, plus pieces left over to use for demos.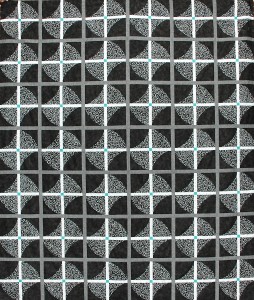 This quilt top started from another Sew Kind of Wonderful pattern called Two-Step Topper that I more than quadrupled in size. The original pattern was a 30″ square but designed with no sashing. I went sash happy, dividing the Drunkard's Path type units with a tone on tone white with a pop of teal in the center. Then I sashed those blocks with a gray linen. The top is now 70″ x 80″ and is going with my daughter to college in the Fall. She picked out  Follie, a lovely white, black, and teal  print by Lotta Jandotter for Wyndham Fabrics for the back.  And she wants a black binding.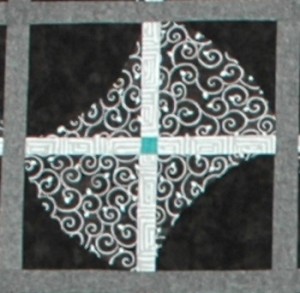 Close up of the fabrics.
I'll be linking to Linky Tuesday and To-Do Tuesday if the links are still open.
I'm also linking to Vicki's UFO Busting Link Up.
Next up is a paper piecing project.
Tags: Fabrics and Friends Quilt Shoppe, Linky Tuesday, To-Do Tuesday