Fabrics and Friends Quilt Shoppe in Roanoke, IN carries part of the line of Bloc-Loc rulers. This week I've played with the rulers for Half Rectangle Triangles and also Half Square Triangles. These are handy little rulers that help with squaring up rectangles and squares for accurate piecing.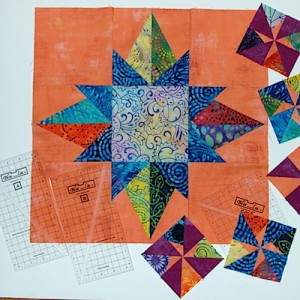 They are a bit pricey but, I do recommend adding them to your selection of quilting tools. I have found myself grabbing the ruler for HST often, as it is very useful for trimming multiple sizes of HST. I own the 5 1/2″ HST Ruler. This week I have added the 4 1/2″ x 8 1/2″ HRT set to my favorite tool list. I also want to purchase the set of Flying Geese rulers, as I have borrowed a friend's. The Flying Geese rulers are useful for trimming other units than just geese too!
BTW, the little 4 1/2″ blocks in the photo are all made from the trimmings of the larger blocks I made. The large block is 16″ finished.
Previous To-Do List:  ✔︎Dance of the Dragonflies (pieced),  ✔︎cleaning out my sewing room (rearranged)
This weeks To-Do List:  Finish Dance of the Dragonflies, quilt table runner – pictures of both to follow.
Do you use Bloc-Loc Rulers? What are your favorite go-to tools for quilting?
Tags: Fabrics and Friends Quilt Shoppe, Linky Tuesday, To-Do Tuesday