I got together with a friend and played with Barbasol Shaving Cream and Fantast/x All Purpose Inks. Here are a few of our pieces -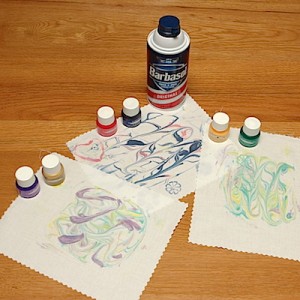 Simply spray some Barbasol on to a plate. Add a few drops of the inks in different colors. Use a toothpick to swirl the inks around. Lay PFD fabric on top of the shaving cream and ink, lightly press until you see the colors coming through the fabric. Peel fabric up off of shaving cream, lay on flat service and wipe off shaving cream with an old credit card, ruler, or squeegee. Allow to dry and then heat set with a hot dry iron. Your fabric is now ready to use a a project!
I used the fabric to make these needle cases. Aren't they cute!?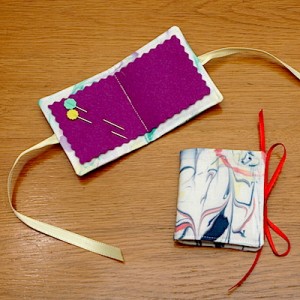 Cut your marbled fabric into 2- 3 1/2″ x 5″ rectangles. You will also need a thin piece of batting that size. Layer the fabrics right sides together and place the batting on top. If you want the ribbon ties, cut two pieces each 7″ long. Pin the ribbon between the two layers of marbled fabric at the ends with the ribbons in the sandwich, making sure not to catch the ribbon in any stitching other than on the two ends. Stitch 1/4″ around the four sides of the layered fabrics and batting, leaving about 2″ opening on one long side. Trim corners. Turn the needle case right sides out through the opening. Press the opening seam allowance in 1/4″ and then top stitch around the needle case 1/8″ from edge. Cut craft felt or wool felt about 1/4″ smaller than the needle case. I used a pinking rotary blade for a decorative edge. Line up felt in the center of the needle case and stitch through all thicknesses down the center of the case, which will be the spine of the needle case.
I hope you enjoyed this little tutorial and find time to play with some fabric marbling!
Have you ever used PFD (prepared for dyeing) fabric or inks? What did you make?
I'm linking to Stitch All The Things To-Do Tuesday.
This week I plan on working on Dance of the Dragonflies, and cleaning out my sewing room.
Tags: To-Do Tuesday