Yikes. Migraines are no fun and I just had a few days this past week fighting the pain. And wouldn't you know it, we had sunny days mixed in with our drab winter gray. Oh did that sun reflecting off the snow and coming in my windows hurt my head.
I only working on Homage to Grandmother's Flower Garden this past week. Missed a family outing. Missed attending church. And I'm thankfully feeling tons better now.
To-Do Tuesday, January 31, 2023
Continuing with Homage to Grandmother's Flower Garden!  ✔️
Finish SAL quilt top.  ✗
Friday is sewing day with my quilt group. I plan to take Homage along. ✔️
1. Homage progressed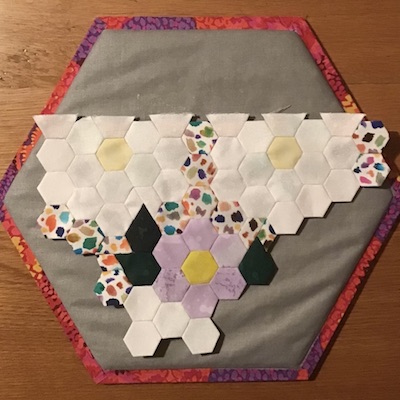 Week 47 stitched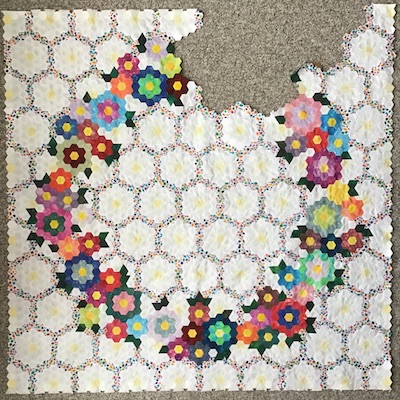 and attached.
I also did a lot of glue basting hexies for the remaining weekly patterns.
2. No headway made on the sew along quilt top.
3. I did make it to the quilting group Friday. But I stitched the wrong back ground to one leaf unit and had to rip it out. At that point I switched to glue basting.
Next up?
To-Do Tuesday, February 7, 2023
Homage to Grandmother's Flower Garden of course!
Non sewing related – daughter bought a fixer upper 100 yr old house. Hubs and I are helping out with some remodel and updating. Ok, Hubs is helping out A LOT! Hopefully plumber & electrician will finish up, inspection will pass, and dry wall can go up soon. Looking like "soon" might be a month or more. Sigh. There's more to the story. There always is. I'll spare you.
Other quilting? Maybe.
Linking to  To-Do Tuesday hosted by Carol of Quilt Schmidt.