What a week! Two birthday parties, road trip to 3 quilt shops, hosting my quilting group, and helping my daughter at her newly purchased house. All that didn't leave much time for sewing. I don't have much, or really anything new, planned in quilting this week. Yesterday was spent shopping with my daughter for new bathroom everything – her main bath has been gutted to the studs. Today I met up with a friend to pick up native plants my husband wanted. Then stopped by two quilt shops to try to match a fabric. No luck there.
After posting this, it's back to my daughter's house.
To-Do Tuesday, September 13, 2022
EPP Homage to Grandmother's Flower Garden, week 26  ✔️
Birthday gift – mug rug  ✔️
Finish Halloween panel wall hanging.  ✗
Thursday, Road Trip with DIL – quilt shops! Kim found a Batik Quilt shop ~2hrs away, with 2 more quilt shops in the area. Kim does love batiks! And I'm happy to tag along!  ✔️
Friday, hosting my little quilt group  ✔️
1.  EPP week 26 moving along.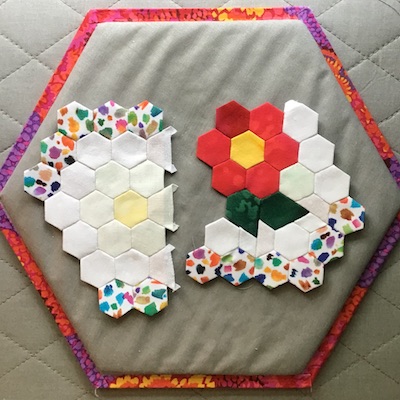 Almost completed. I only work on this when I'm home in the evenings. Not so much this past week!
2. Birthday gift -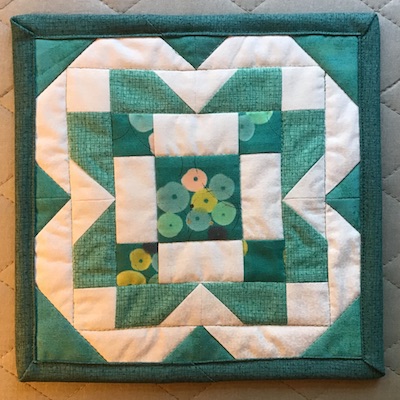 Eight inch mug rug completed and gifted. Friend said it matches her living room. I got a cute text the next morning saying she was enjoying using her mug rug!
3. I didn't touch the Halloween panel quilt. But I did gift the doll quilt and canvas bag. Both well received. Friend asked if I'd make another canvas bag. So got to add that to the to-do list. But that won't be this week.
4.  Road trip was a lot of fun! I somehow forgot to take any photos. And yes, I might have bought a few fabrics and patterns.
5. Hosted quilt group – here's what I worked on -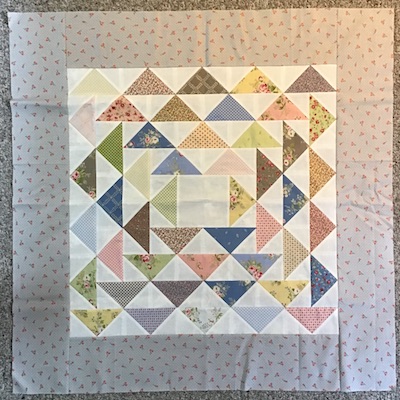 These geese needed a border.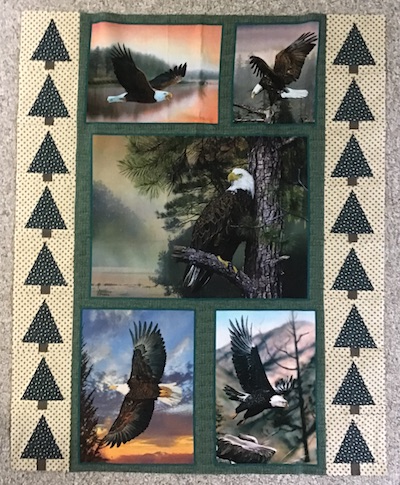 I added orphan tree blocks to this eagle panel.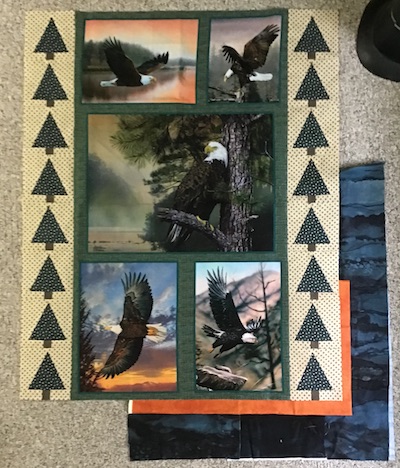 And plan to add two borders around it.
I thought I'd have it completed by now, but other things keep popping up.
The biggest thing popping up is of course our daughter's house! Closing was Friday the 9th. Hubs and I have been helping at her with a few repairs. LOL does gutting a bath count as a repair!? She and boy friend did the most of that grunt work. Quilting has gone by the wayside for now. Daughter plans to move in by the end of the month.
New list -
To-Do Tuesday, September 20, 2022
Complete week 26 Homage to Grandmother's Flower Garden and attach to quilt.
Continue on with  Homage to Grandmother's Flower Garden, prep week 27?
Maybe finish borders to eagle panel quilt.
Helping out at daughter's house!
Short list this week! I'm hoping time will be well spent at my daughter's house!
Linking to To-Do Tuesday hosted by Linda of Texas Quilt Gal.