I sneaked in a project this week that was not on my list.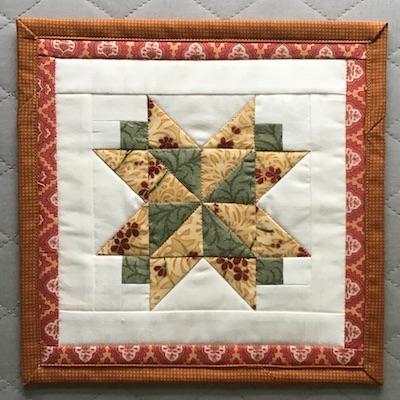 This is a 10″ square mug rug birthday gift for a quilting friend I will be seeing Saturday. I used This & That Bitty Barn Block January pattern. It was a fun little quilt to put together.
To-Do Tuesday January 4, 2022
Continue working on the quilt for my son and DIL. Next steps: sashing added over seams, and appliqué added to mitered corners. Binding, but I don't think I'll get that far this week. ✔️
Continue prep for Granny's Garden. ✗
Sewing Thursday with friends. Work on charity quilt. ✗
1. I'm full steam ahead on the quilt for my son and DIL! Sashing completed, leaves appliquéd over mitered corner seams, label made & attached to back, and binding underway!
You can seen the sashing between the appliqué flowers and clam shells. And Leaves are appliquéd in place over the mitered corner seam. Finishing this quilt is my One Monthly Goal. I hope to have the binding completed today!
2. I didn't touch Granny's Garden quilt this week.
3. Sewing with friends was canceled as Covid continues to lurk in every corner. The host's husband was exposed to Covid, so we all played it safe and stayed home. THAT helped me make progress on my son & DIL's quilt!
To-Do Tuesday January 11, 2022
Finish quilt for son & DIL! Only have the binding to complete and then launder!
Quilt and maybe bind Hungry Caterpillar quilt. I'll share its story next week.
Prep fabric for EPP project I hope to work on through out this year.
Linking to To-Do Tuesday hosted by Linda of Texas Quilt Gal.
What are you working on this week?
Tags: To-Do Tuesday