This past week I did move forward on two items on my list. Plus I prepped a new project that I thought would be good to take along as Hubs and I travel out-of-state to a wedding this weekend.
Here's my list for the past week -
To-Do Tuesday November 2 – 8
1. Continue working on Flying Geese at my Thursday quilting group.  ✔️
2. Continue wool applique.  ✔️
3. Maybe pull out a UFO to quilt.  ✗
Here's how this week has gone -
1. Flying Geese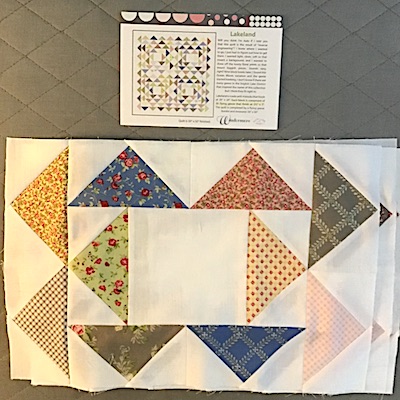 I finished piecing all the flying geese and started piecing them into blocks. I'll be using the geese to make 5 small quilts instead of one large quilt. These will be small, 32″ – 36″ square, and are destined for either a charity my church donates to, mostly for people in wheel chairs. This small size is perfect to fit over a lap. Or one or two might end up as baby quilts. I'll just need to add borders to reach the needed size.
2. Wool Applique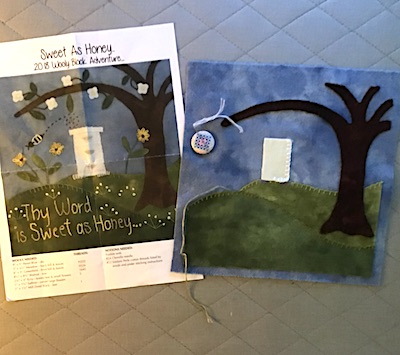 I'm slowly moving along on the wool appliqué. And I do mean slowly! I'm new to this and not fast at hand stitching on wool at all! I finished the tree and started the bee hive, which is sitting on gray rocks.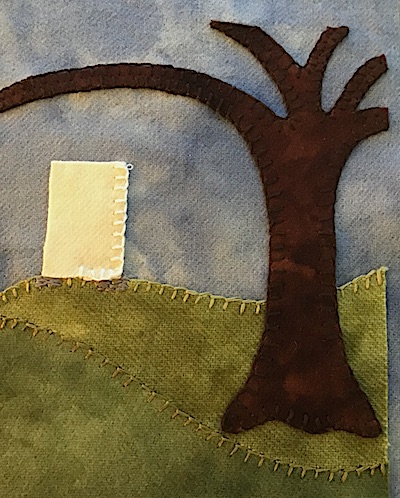 Stitches show up a bit better in this photo. I'm in learning mode on this piece. The white rectangle is going to be a bee hive. Figures crossed it turns out ok!
And as if I am a glutton for punishment, I've purchased and prepped a new handwork piece. This one is on cotton, which I'm just a bit more familiar with so I hope I enjoy it.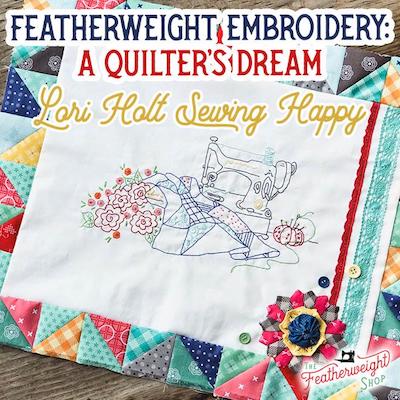 The Featherweight Shop offered this kit in two color ways. I bought the brights. The piecing and embellishments around the embroidered Featherweight sewing machine are adorable. Here's hoping I can manage the embroidery. There is one new stitch for me to learn in this piece. I'm thinking Hubs and I will have some down time over the weekend at the wedding so I'm taking this along and the wool appliqué. Any amount  of progress I make on either will be considered an accomplishment!
To-Do Tuesday for November 9 – 23 (I won't be home to post next Tuesday, so this is a two week list)
1. Wool Applique
2. A Quilter's Dream Embroidery
3. Once home, start on quilted Christmas gifts.
I'm linking to To-Do Tuesday hosted by Linda of Texas Quilt Gal.
Tags: To-Do Tuesday