This past week I spent some time quilting Bat Moon Rising. Bats are outlined, Moon has circles, the background has alternating horizontal and vertical lines. Do you see the mistake in the lower left corner? It was supposed to be vertical. Time for some ripping out!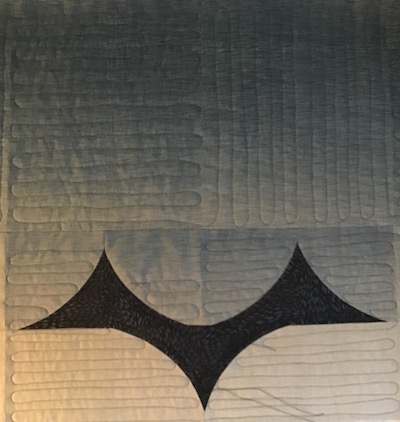 I actually messed up on my quilting pattern twice. Rip rip rip.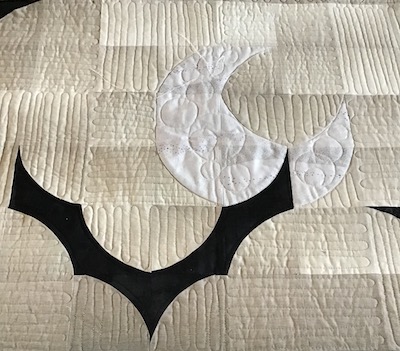 Close up of moon. The stray threads you see in the quilted area will be knotted and buried.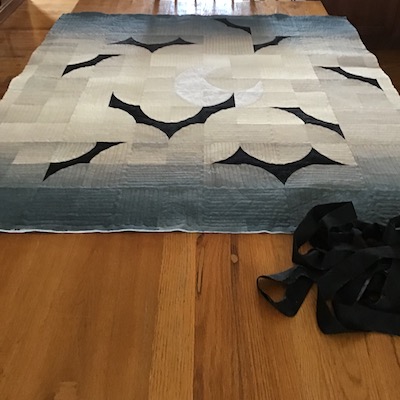 Bats top all quilted, black binding waiting to be attached. I have one extra bat block that will be the label. Almost done! Pattern by Sew Kind of Wonderful. I used an ombre, Daiwabo Selection for E.E. Schenck Company, in gray blue to tan for the background fabric.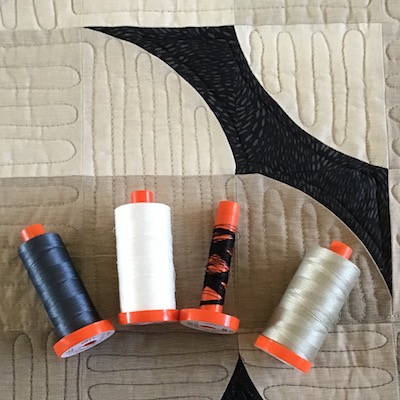 Aurifil threads for piecing and quilting,  1158, 2021, 2692 & 5021. Don't think I'll have enough black to attach the binding!
Sunday, March 15th, Project Quilting announced the final challenge for the season, Vibrant and Vicarious.
For this challenge I've pulled fabric for Cut Loose Press Pattern Cabin Leaves Table Runner.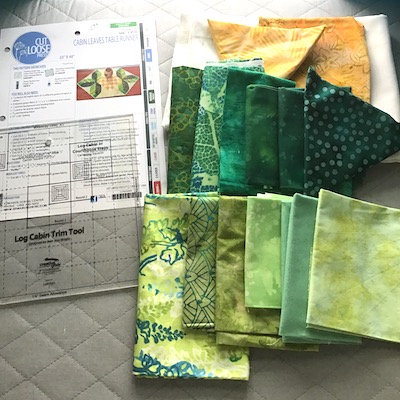 I hope to have it finished to gift to a friend for her birthday by Thursday! Wish me luck!
After finishing the table topper, I'll get that binding on Bat Moon Rising.
With the Covid19 shutting almost everything down, and now my grandkids having colds, I won't be doing child care this week. I am still cat sitting for a few days.
I hope and pray you are all staying healthy. Have patience, and be kind!
Last To-Do List:
Finishing quilting Bat Moon Rising. ✔️ I completed the quilting, even with a few setbacks, rip rip.
Maybe cut, make and attach binding to Bat Moon Rising. ✔️Binding made, not attached.
This Week's To-Do List:
Project Quilting 11:6 Challenge – finish and post
Bind Bat Moon Rising
Linking to Home Sewn by Us To-Do Tuesday Party!