In my part of the world, April sure is ending in showers. Showers and thunderstorms. So here is to May Flowers!
Monday I hosted my quilting group. While pondering what to sew on, I wondered what happened to the basket quilt I started ever so long ago. I found it. There were 9  of 12 completed blocks.
One block only needed the star appliquéd in place.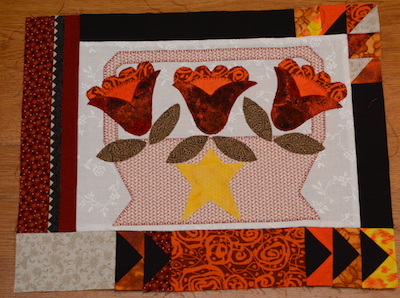 Another block had all the pieces cut and needed assembled.
And the last block had templates made but not cut out.
I completed all three of the remaining blocks. All the blocks are machine appliqué using straight stitch or blanket stitch, matching thread to the fabric. I'm loving them.
The pattern is an old Joined at the Hip BOM, Baskets & Blooms, printed in 2000. If memory serves, I purchased the pattern when a quilt shop I visited was going out of business. I'm still deciding how to finish the blocks – all 12 blocks together make a 42″ x 66″ quilt. I might divide them up to make 3 wall hangings. Or frame some as gifts.
My last to-do list:
Finish piecing Mystery quilt top. ✗ Still have trees to finish.
This week's to-do list:
Work on Mystery quilt or
Work on Basket & Blooms or
Work on grand daughter's quilt
Lately, I've not been doing well with my own to-do list! (I think I'm rebelling against my own list!) But I am happy with completing all the Basket & Bloom blocks! I'll post about the rest of the blocks once I figure out what I'm doing with them.
Linking to To-Do Tuesday