Let's just say I threw last week's to-do list out the window and decided on a bit of Crazy. Happy Crazy.
First, I feel in love with Minki Kim's book Diary in Stitches.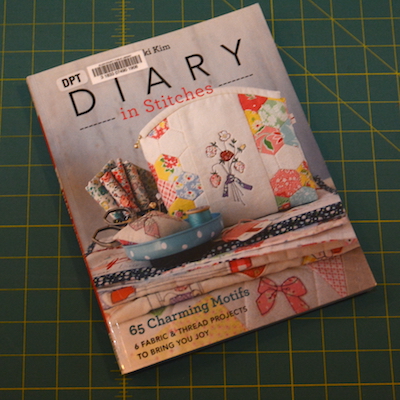 Just take a look at this! Or go leaf through it on Amazon.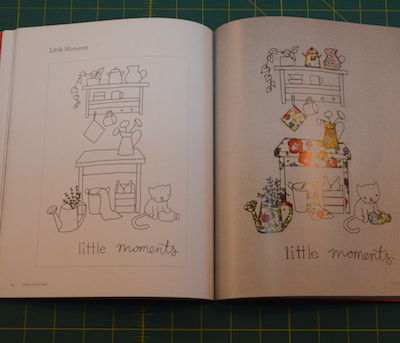 See her sketch on the left page? And then see how she interpreted it with stitching and fabric on the right page? What a wonderful idea! I love how only bits and pieces of the design are embellished with fabric. I want to play with this idea.
But what I really did was start a new FMQ project sponsored by the Facebook Group Machine Quilting Tutorials with Jeanne. She is teaching a Row by Row quilt this year using FMQ. Here is part of my first row.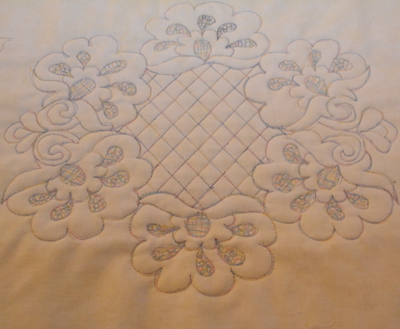 This design got me thinking about stencils. And about my friend who gave me a large pile of stencils in all shapes and sizes.
So I dug through them and settled on these,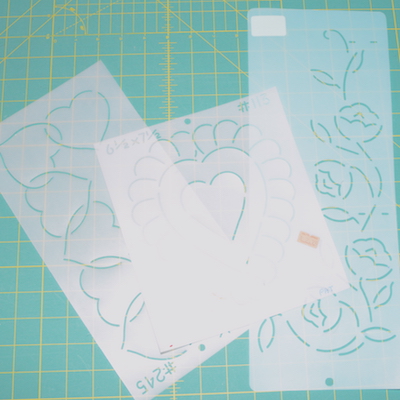 thinking I could use the stencils and bits of fabric to play around with Minki Kim's style of design.
I dug out my scraps of already fused fabrics left over from making appliqué quilts.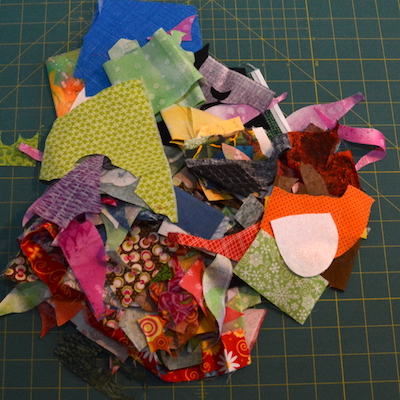 Then using the stencils and fabric I started playing.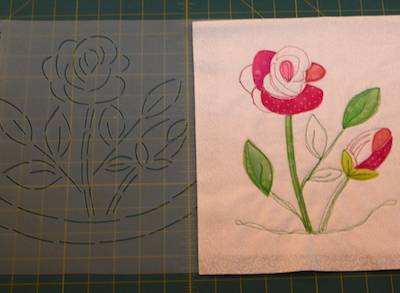 I traced the portion on the stencil I wanted to use on to background fabric. Then traced bits of the leaves, rose bud and flower on the fused fabric. (I use Misty Fuse for machine appliqué quilts, keeping the scraps in ZipLoc bags.) I fused the fabric in place with a hot iron and then had fun stitching around and over the fabrics and along the lines of the rest of the stencil design.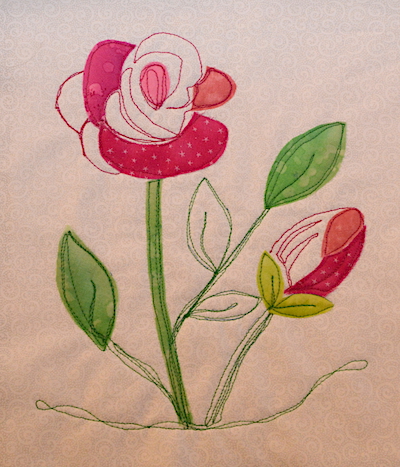 So much fun! And I'm loving the look and results!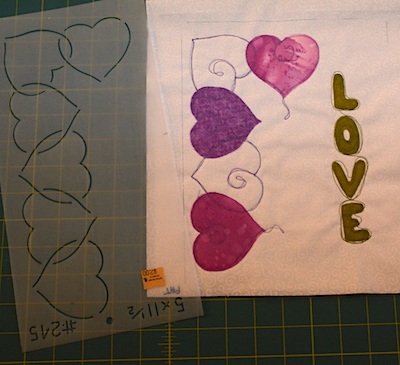 Heart stencil and free hand Love.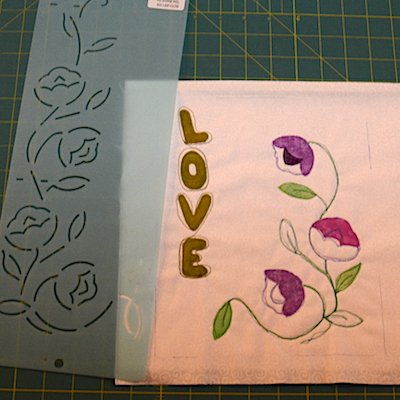 Flowers and love.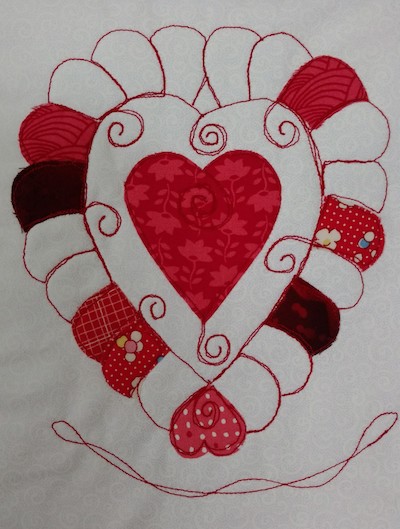 Heart!
But that was not enough Crazy for the week. I had visited a quilting friend. We've been friends for 20 or so years. As she gets older, her hands are just not cooperating as they once did. She showed me several of her UFOs she had intended to complete and donate to charities. I offered to take them to complete them for her.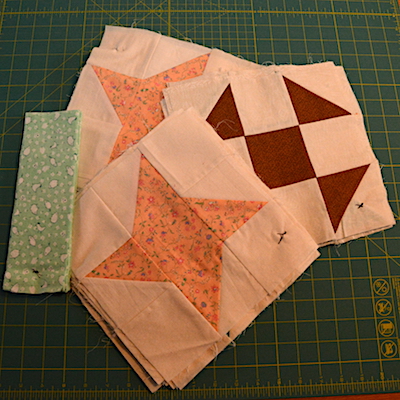 I took 4 sets of 12 blocks each with sashing already cut, which will make 4 baby quilts.
…
You know, not like I don't have any UFOs of my own! I shared this at my quilting group yesterday and they did think I was crazy! We had a good laugh and I got busy on the first of 4 quilt tops.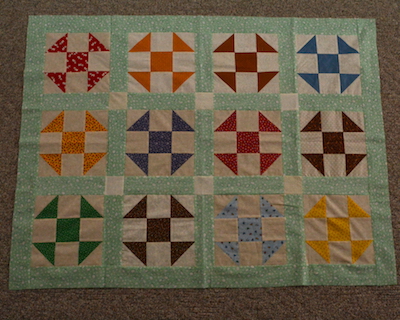 Here's the first completed baby quilt top. 9″ blocks & 2 1/2″ sashing and border. Top is 37″ x 48 1/2″ My friend has a lovely stash of fabric which I'm sure will provide backing and binding. I'll take this back to her and see if she wants me to finish it, or perhaps she will want to machine quilt it.
That's my Crazy for the week. It was fun and I hope to be so inspired again! Plans this week will be a repeat of last, temperature quilt, and backs for 2 finished tops.
Last week's to-do list:
Sew up backs for the 2 above quilts.
Stitch together hexies for the temperature quilt.
Linking to To-Do Tuesday and Linky Tuesday.