What a wonderful life! I enjoyed Christmas with my family gathered around. We are blessed to know the King, and to celebrate his coming to earth. I do love Christmas with its special meaning and all the trappings of gift giving, eating yummy foods, sharing time with family and friends.
This year I made 2 stockings for my 2 grand children. We hung them by the chimney with care
and then filled them before the children arrived Christmas day.
My grand daughter wanted a snowman. And my daughter suggested a Christmas Moose for baby grandson. Adding a red scarf makes a moose a Christmas Moose, right?!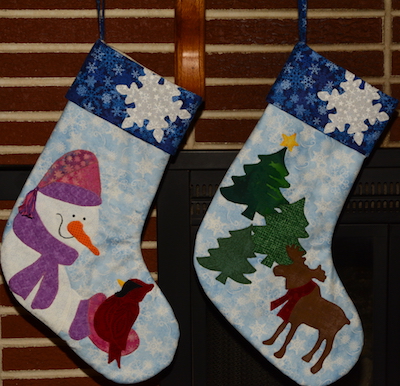 Merry Christmas all, and Happy New Year!
How did I do on last week's To-Do List:
Finish Christmas Stockings for the grands. ✔️
This week's To-Do List:
Bind Chic Country quilt, finally.
Linking to To-Do Tuesday and Linky Tuesday.