I'm so tickled!  My goal was very simple for this month because of other non-quilting obligations.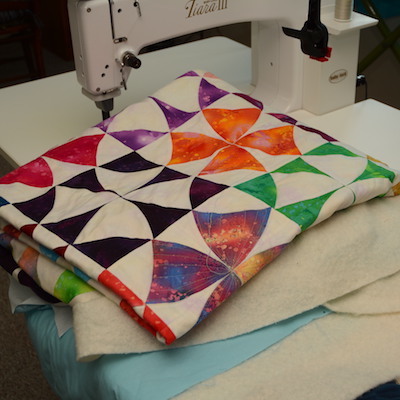 Meeting my goal was pretty simple because it was a very easy goal – make back for a twin size Chic Country quilt, sandwich it, and maybe start the quilting.
What I'm so tickled about is that after fighting the quilt on my smallish quilting table, I finally took the plunge and added a DIY suspension system to my table!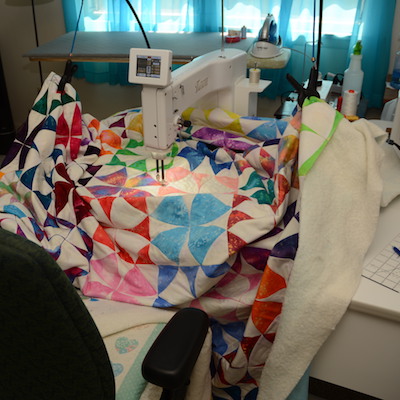 I shopped at Menards, buying 2 Stokes Clamp-On Deck Hooks, 2  Spring Clamps, and a pack of Mini Bungee Straps.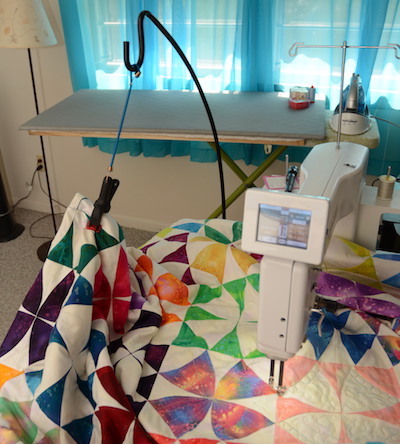 The Deck Hooks are made to clamp on to a deck railing and will hold bird feeders or hanging plants. I screwed them on to the back of my table, hung a bungee strap from the hook, and attached the spring clamp to the bungee. There is a hole already drilled into the handle of the clamp, and the hook on the end of the bungee fit into that hole.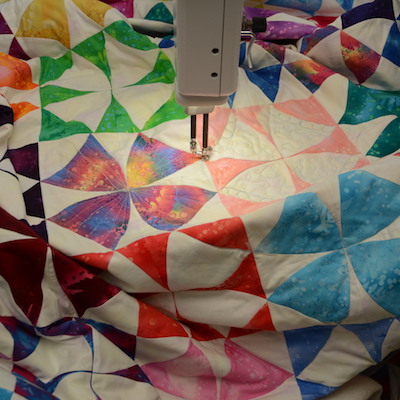 I'm playing around with quilting designs. I fought the quilt in the first block where I was attempting curved lines within the printed fabric. Adding the suspension system made a huge difference in the weight of the quilt and the drag of moving it across the table, and helped avoid the quilt getting caught on the table corners.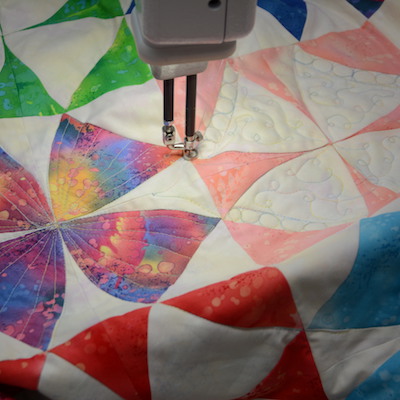 In the next block, I did loops and circles in the light fabric. I had a lot more control in moving the quilt while it was attached in my new nifty suspension system!
I didn't get much FMQ done, but I'm very pleased with moving forward with my new handy dandy DIY suspension system!
Linking to One Monthly Goal over at Elm Street Quilt.
Tags: One Monthly Goal