This past week I have continued piecing blocks using the Square in a Square system by Jodi Barrows. I'm working through her book Letters to a Soldier but I'm not using Civil War reproduction fabrics. I'm using a theme fabric of Hummingbirds.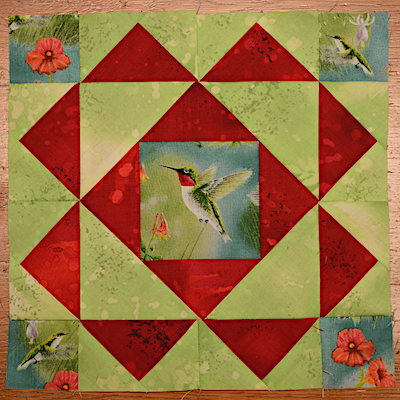 This block is called Gentleman's Fancy in Jodi's book.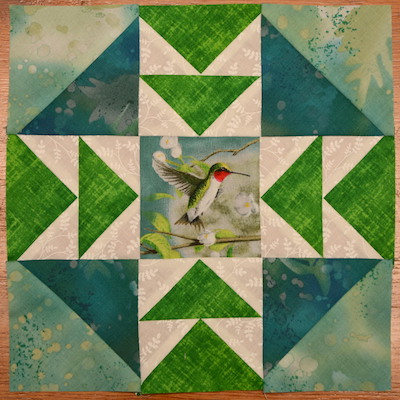 This block is The Fox and Miss Emma.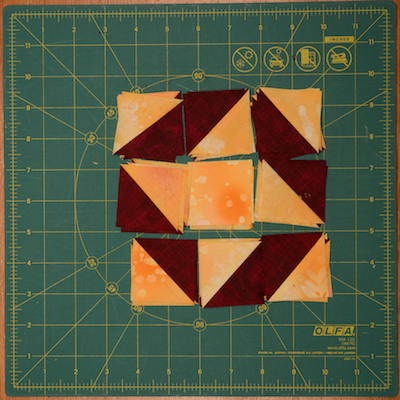 This block in progress is traditionally called Milky Way Star but called Vicksburg Star in the book.
I've continued playing with monogram lettering on my Janome and have stitched out some months for my temperature quilt.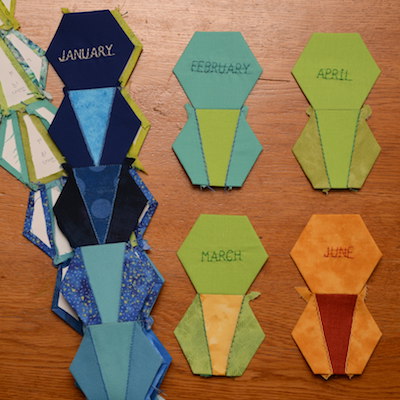 They are not perfectly centered, I'm still learning. I think I'll make a window template so I can center the name of the month in the Hexie shape.
Update on our son settling in to new home:  The unpacking and finding a place for everything is coming along making the house look more like their home! My husband has been working in the basement, removing old tile floor. I've helped some with childcare when they went shopping, provided a few meals, and helped with breaking down empty boxes. That means it has been a more relaxed week, for me anyway! Oh! And they sold their former home! That will add to their peace-of-mind.
Later this week I'm heading to Shipshewana Quilt Festival with several friends. Plus, we will enjoy one day of sewing together at a friend's lake home. Hmmm. Do I pack some UFOs to work on, or start on the Brimfield quilt after shopping? Decisions, decisions!
What are your plans for Summer quilting?
How did I do on last's week To-Do list?
Continue to play with monogramming function on my Janome. ✔️ I'm stitching out the months of the year for my temperature quilt.
Stitch up the set of blocks I cut this week for the Square in a Square BOM. ✔️ Done, and did second set too.
This week's To-Do List:
Enjoy Shipshewana Quilt Festival with my quilty friends!
Figure out what to take for our sewing day.
Linking to To-Do Tuesday and Linky Tuesday.