Since I didn't complete my free motion quilting goal for June, I think I will take a break from machine quilting and focus on piecing this month. I had a really good run January through June, minus the one table topper I didn't finish! I completed one lap quilt, 7 charity quilts, and 6 table toppers! Plus I worked from start to finish on a wall hanging! That's 15 completed quilts of various sizes!
For July, my plan is to complete my Fence Rail Star quilt top. You can read more about it here.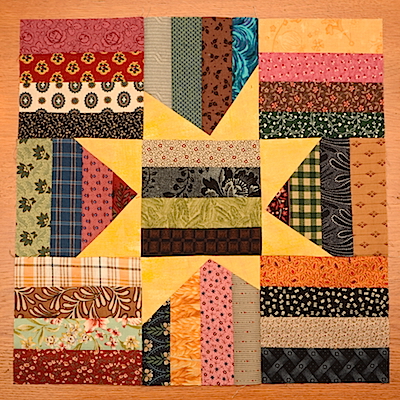 I'm making 12 of these wonky star blocks.  Each block has 36 logs. I'm not repeating any fabric (I hope!) that means cutting the logs from 432 different fabrics! The blocks will be set with sashing, corner stones, and then border(s) added.
You can see all the other quilters July OMG by heading to Elm Street Quilts blog.
Tags: One Monthly Goal