I  have a few finishes to share. The first two I started a few years ago when I did demos for a local quilt shop.
This is Sew Kind of Wonderful's Metro Hoops using their Quick Curve Ruler.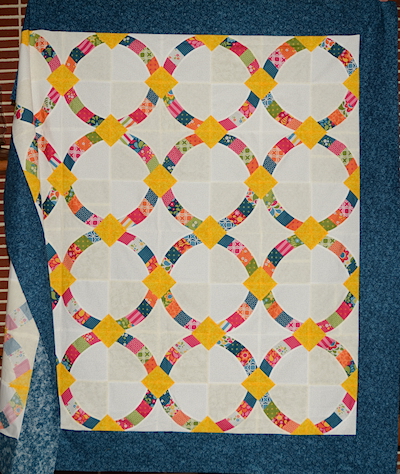 I used a Moda Jelly Roll of Best Day Ever, yardage of a Moda swirl print in yellow, and blue for the border, white and cream for the background. Fabric is purchased for the back, waiting for my attention. I've been looking at Pinterest to get ideas on how to quilt Metro Hoops. I had all the blocks sewn, so just finished putting them in rows and attaching the border. I have a flange binding made in the blue with a pop of yellow as the flange.
Next up is a Laundry Basket pattern Sweet Mints by Edyta Sitar. I had several blocks constructed, and decided to stop at that to make a table runner.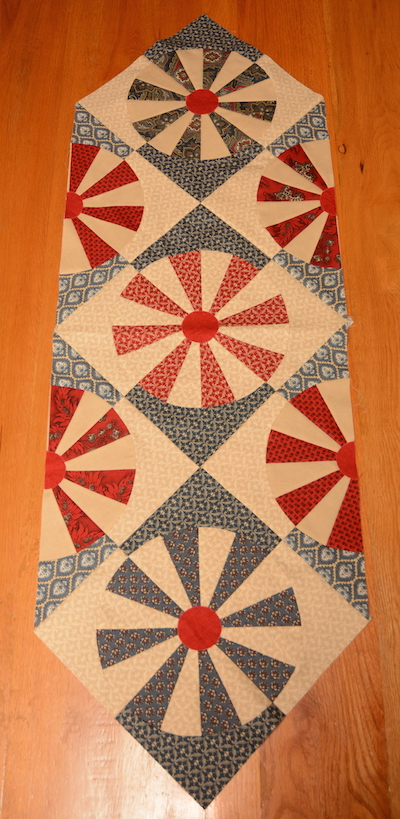 A quilting friend suggested I cut two blocks in half for the above design. I like how it turned out. Binding and back are ready. Another top that needs my attention to free motion quilt and bind!
Speaking of free motion quilting, I am continuing to practice with the free instructions presented by Jeanne Harrison's Facebook group Sit Down Free Motion Quilters.
I have one more lesson to go for the last two side borders of this FMQ sampler.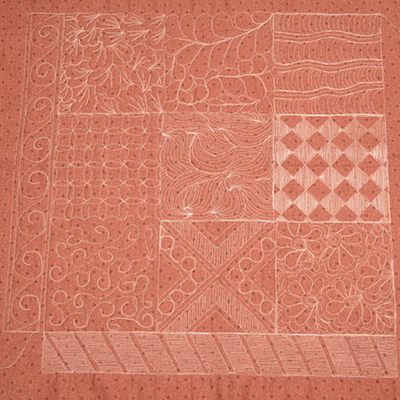 This is actually the back of the quilt as the light color thread shows up so much better than on the light front fabric.
I need more practice on swirls!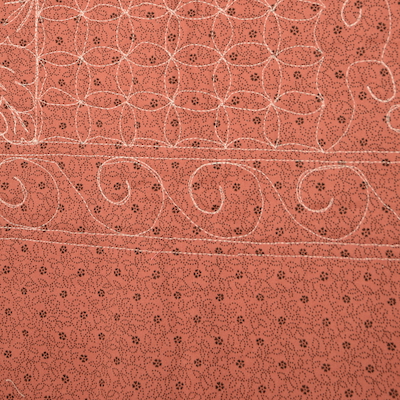 Diagonal lines.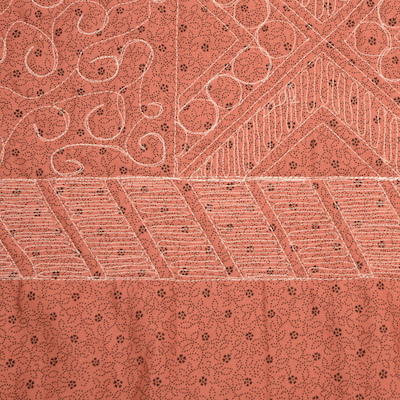 Even though I told myself I would not sign up for a Block of the Month this year, when I saw Jeanne Harrison was offering one in the Facebook Sit Down Free Motion Quilters group, I decided to go ahead and join in. One more way to learn FMQ!
This appliqué block was January's design.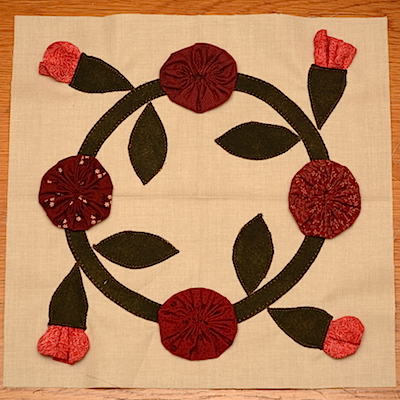 And February's "block" was piecing the units for the border and setting blocks: quarter square triangles in 2 sizes and flying geese.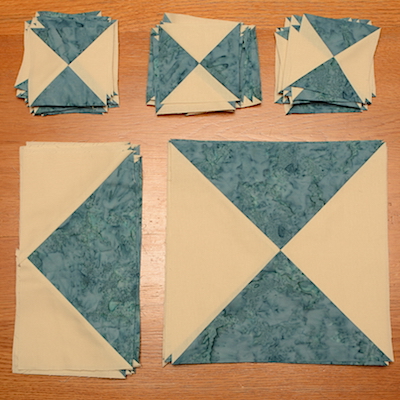 Charity quilts:
I finished one charity quilt using this decorative stitch to secure the binding.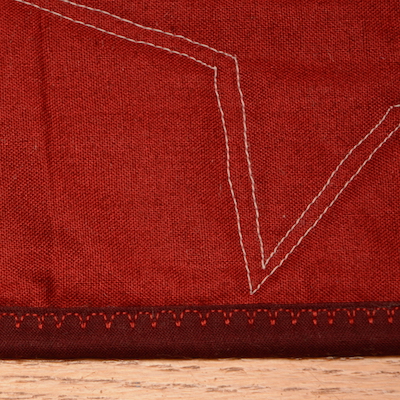 I attached the binding to the back and pressed it to the front. Then stitched through all the layers to secure the binding in place. This was my first time to use something other than a straight stitch.
Have you ever used a decorative stitch to finish your binding?
My last To-Do Tuesday List, how did I do?
Pillow case sewing with friend. ✔️ We selected and cut fabrics for 22 pillow cases, I showed her how to do the burrito method to sew them together. I'll be getting back with her soon to see how she is doing.
Continue working on charity quilts. ✔️One complete, and two in progress.
Continue work on FMQ sampler.✔️Two more side borders and the sampler will be complete!
This week's To-Do Tuesday List:
Continue working on 2 charity quilts.
Continue FMQ sampler.
Set up time to meet with my friend making pillow cases.
My husband's Spring Break (college professor) starts this Friday and runs thru March 12th. I don't think I'll be getting much done in the sewing room. I'll be happily spending the week with him!