Do you follow
Leah Day's blog
? I have been doing so for a few years and each year I say, "This IS The Year I'll put effort into learning to Free Motion Quilt!" Then I do some FMQing, but not much. For 2014, Leah has designed a pattern for a quilt along to learn piecing and FMQing called
Building Blocks
. Check out her blog to purchase your piecing pattern and instructions on free motion quilting. She also has fabric available at Spoonflower if you don't want to do the piecing.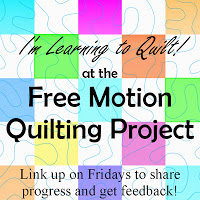 Leah recommends using just 2 fabrics in solids for this project. I understand her logic for the solid fabrics, in that we can see our mistakes and learn from them. Even so, I've decided to bust my stash for the monthly blocks. I think it will end up being a scrappy quilt. Altho, I do have lots of fabric and could make it out of 2 color families. At this point I'm just going to wing it, and see where each month leads me. I'll be posting and linking up with Leah showing my progress.
This is my 2014 Personal Challenge! Piecing along with Leah, improving my free motion quilting, and linking up with the Building Blocks Quilt Along while using fabrics from my stash.
Anyone care to join in!?
Tags: Building Blocks Quilt Along with Leah Day, Free Motion Quilting