First up – I'm working on catching up with my Block of the Month using Vicki's monthly Color Palette Challenge. Here is my block for June. I did say 'catching up' remember! Yep, I'm behind!
The pattern is from Joined at the Hip 2000 Block of the Month Baskets & Blooms series. I'm using Misty Fuse and fabrics from my stash.
Next up is a 34 1/2″ square applique quilt. Could be a wall hanging or a baby quilt. It is a demo model for Fabrics and Friends Quilt Shoppe in Roanoke, IN. Tomorrow I will be doing a demo on fusible machine applique. The quilt shop will have  kits available with fused  Accuquilt die cuts in owls, kittens, flowers, and puppies. Steam-a-Seam was the fusible used for the kits. We will have several sewing machines set up for anyone who would like to try machine applique. Should be a fun time! OH, and did I mention donuts!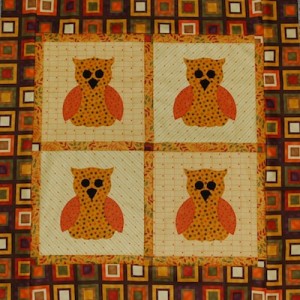 Tags: Color Palette Challenge, Fabrics and Friends Quilt Shoppe, Fusible Machine Applique