Last week I made 5 quilts all in the Jelly Roll Race style as shop models for Fabrics and Friends Quilt Shoppe, Roanoke, IN. These would be fun quilts to make at a retreat and also would make quick quilts for charity.
The youtube instructions say to open the Jelly Roll and sew the strips end to end (mitered) just as they come from the Jelly Roll. That is what I did for the first quilt, but I didn't like how the strips of similar color did not show up the mitered seam. Having that mitered seam pop, I think, is the whole point of this method.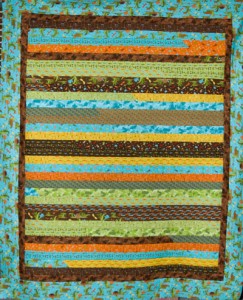 For the next quilt I used a baby jelly roll – just 20 strips of fabric. I mixed up the strips instead of working straight through the jelly roll, and liked the results much better. The top ended up being a perfect crib size quilt.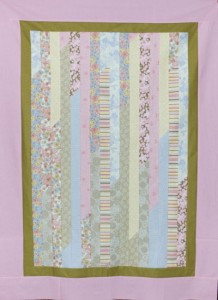 Next, I moved on to 5″ strips – Deborah Roehm, the quilt shop owner, wondered if a 5″ strip would work for this method. We didn't see any reason for it not to work – so I made two of them. A flannel, and a batik. (Batik pictured below)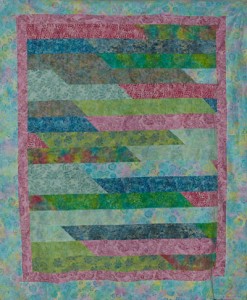 I love the look of the 5″ strips! So dramatic, and the mitered seams show up well. I think we used 20 strips. Deborah did the cutting and I did the sewing. We also made two crib size using flannel.(no pictures) Deb cut kits for her Saint Patrick's Day Sale and they all sold!