I just found Lily's Quilts: Fresh Sewing Day and Small Blog Meet. What two great ideas! So I am linking to her. See the links on my side bar if you are interested.
I've been working on clothing quilts lately. 4 to be exact. A clothing quilt is like a t-shirt quilt, only it incorporates a larger variety of clothing. The 4 I have been working on include t-shirts, dress shirts, ties, sweat shirts, slacks, jeans, and bib overalls. Here is the first completed quilt: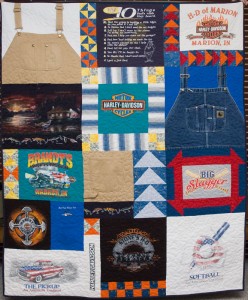 I added theme fabric and just a bit of bright fabric that coordinate with the t-shirts to add visual interest to the top.
I had more clothing items than I could fit into the top – so they spilled over on to the back-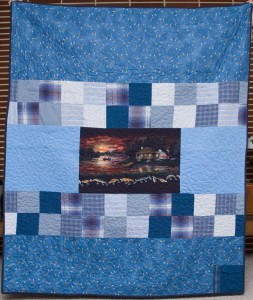 And in the corner I placed a pocket with yet another piece of clothing – denim from a pair of jeans.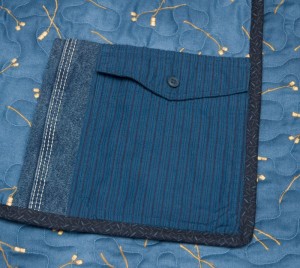 Another project has been a baby quilt-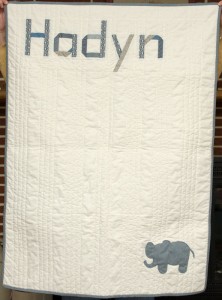 This quilt is for young friend Brianna, who is expecting her first baby in early January 2012. I have been taken by the simplicity in Victoria Gertenbach of Silly BooDilly hand quilting, and decided to try my own simple quilting of just straight lines by machine for this baby quilt. Brianna is going with an elephant theme for baby Hadyn. I don't have a picture, but the back is the cutest ever animal print, Jolly Jungle Animals by Henley Studio.
I'll share clothing quilts 2-4 as soon as I get the binding on!