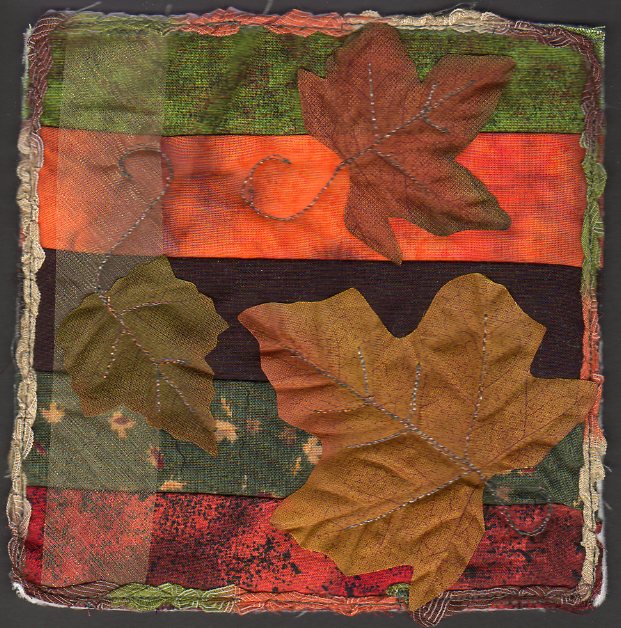 Yesterday I made 6″ quilties for the Shades of Forest Swap hosted by Creative Lenna. When I first signed up for this swap, I had several ideas floating around in my little head. Playing yesterday lead to using these fabric fall leaves purchased from the dollar store. I like the results and hope the ladies to receive these will be pleased as well.
Last night when DH came home from work he asked what was up with the phone. I had tried to make a phone call in the morning but could not get through to my party and figured oh, I'll try later. Then I got busy on the things of the day. DH had tried several times to reach me. Wanted to take me out for lunch! I never heard the phone ring once all day, and the answering machine never picked up either. Later, I found out DH was not the only one trying to reach me. We ended up going to eat at a favorite Chinese restaurant. Then  headed to the Library for  a book DH had on reserve. I looked at art books for a class assignment. But could not find the type of books I really wanted to look at. Maybe the few I have on reserve will be the ones.
I'm taking a drawing class. Believe me when I say I am a stick figure "artist." (I might get brave and show later how I'm doing.) The class includes history and art appreciation. Our assignment is to find artists we like, as in their style, and explain why. I'm looking for nature journal type artists that do line drawing and sketches. Can anyone point me in the right direction?
Tags: Swaps