October was a good month. 5 UFOs completed. 1 new quilt- fabric purchased, quilt completed & gifted! One t-shirt quilt made and sent off to longarm quilter for a customer, so not a UFO but happy about that one!
UFO's – honestly, almost too numerous to count!
UFO's completed – 5!
UFO's currently working on – 2
New projects completed – 2
New projects started – 2
One of the quilt shops in our area held their annual Birthday Sale this weekend. Yes, I did shop! Who wouldn't at yardage 50% off!? I bought flannel fabric to have on hand for baby shower gifts, self-binding baby blankets.  I also bought fabrics for planned quilts, no more just buying lovely fabric because I like it. My stash needs to be used up, not added to at this point. Plus I bought 4 patterns at 25% off.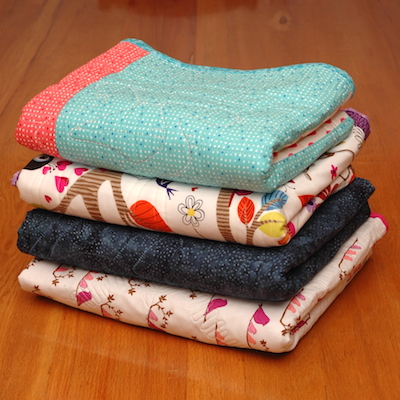 Scroll on through my older posts to see the quilts.
This coming week, I'm helping a friend with binding a pile of table runners. Then back to normal programing aka working on my own list!
So gals, are you continuing to build your stash? Or at you a point where you want to use it up?  I'm all for using mine up, and only buying when what I want to make I can't find in my stash already.
Linking to Vicki Welsh's UFO Busting.
Tags: UFO Challenge