With Easter just around the corner, it is time to pull out the bunny patterns at Fabrics and Friends Quilt Shoppe and demo a bit of machine appliqué.
Here is a cute little bunny in a tulip ready to share some Easter cheer.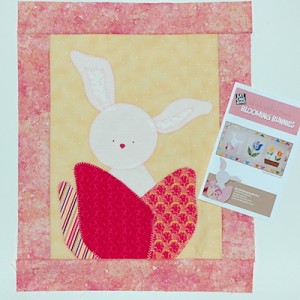 The pattern is part of Blooming Bunnies by Eat Cake Graphics. I'll be demoing Misty Fuse and decorative machine stitching using this bunny pattern Saturday, March 14th, at Fabrics and Friends Quilt Shoppe, Roanoke, IN 10-4.
Spring also brings plans for the upcoming Row by Row Experience Shop Hop 2015!  And here is Fabrics and Friends Row. The theme this year is H2O. Fellow employee Vicki and I came up with this design:

dimensions are 8 1/2″ by 36 1/2″.  The Row by Row Experience begins June 21st and runs through September 8th. Each participating quilt shop creates and provides free patterns for their Row.  Kits available for purchase, and of course there will be prizes! Why not ask your favorite quilt shops if they are participating this year? It's open to all quilt shops in the USA and Canada.
Tags: Fabrics and Friends Quilt Shoppe, Row by Row Experience