In the personal quilting world, I've totally fallen behind in "Getting it Done" a challenge of sorts run by Judy Laquidara of Patchwork Times. The idea is to list at the beginning of each month what you plan on getting done quilt-wise for the month, and then at the end of the month post how well you did with your list.
My list for September is:
1. Baby quilt for niece. Top is done, needs quilting & binding.
2. Baby quilt for nephew. Finish top.
3. Work on wedding quilt for my son and DIL. Fabrics & pattern selected, make some headway on piecing.
4. Finish 6 charity quilts. Tops done, need to pillow-turn & top stitch them.
In the work world of quilting I have the following to complete for Fabrics & Friends Quilt Shop:
1. Ripple Effect pattern by Cut Loose Press
2. Halloween strip quilt.
3. Thangles demo for quarter-square-triangles.
4. Blocks for Quick Curve Ruler demo.
Looks like a pretty good list!
Here is what I demoed today at the quilt shop: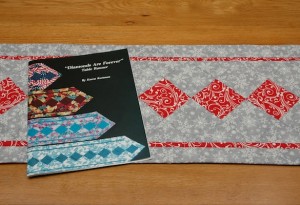 Diamonds Are Forever Table Runner.