Here we are at the last Color Palette Challenge of the year sponsored by Vicki and Judy. I've enjoyed the year using Vicki's color palettes and also Joined at the Hip's 2000 Basket and Blooms Block of the Month. Vicki chose to have us use a monochromatic palette for December. Each participate deciding on which color to use. I waffled around for a bit on what color to use, but since the last basket pattern included holly, I settled on greens.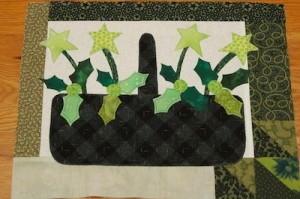 Thanks for the fun year Vicki and Judy! I think I'll join you in the Mystery Quilt for 2013 and perhaps the Get it Done Challenge. If you would like to see what other ideas Judy has up her sleeves, check out her Group Projects page!
I'm also considering the Dancing Stars Quilt Along hosted by Amy's Creative Side. I think it will be a good one to use fabric from my stash. And a friend just told me about Merry Mayhem's Mystery Quilt Case # 135. But I don't want to over commit or anything.

 After all there are the several classes I signed up for through Craftsy. Are you familiar with the on-line courses offered through Craftsy? If not, take a look, I highly recommend them!
Tags: Color Palette Challenge