to have grandchildren visiting! I have not entered the wonderful world of grandmother-hood yet. But this past Tuesday I had the delight to have two little girls visiting while their mother ran a few errands. The first order of the day when these little ones visit is to play with  my cat. He soon scooted off to my studio and the "grand chase" was under way. Note that this is all normal behavior at our house! My cat loves to be chased and will keep the game going much longer than I care to play! The girls can stay interested in this activity about as long as the cat is willing to play! On this particular day, once in the studio, this little doll caught the eye of my 5 year old guest.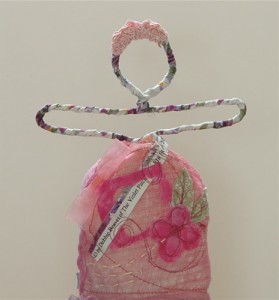 I took her down from her perch, and my little friend asked how she was made, which I explained, and then she asked if I'd teach her. For the next two hours, I kid you not! we three had fun rooting through my fabric, ribbons, bows, lace, beads, and other goodies and the girls each made their own doll, with just a bit of help from me (sewing) and my son (who bent the wire for us.)
We wrapped fabric strips around wire  bodies, sewed up dresses, and embellished them with all the goodies the girls selected for their new dollies.
Wrapping wire body with fabric strips: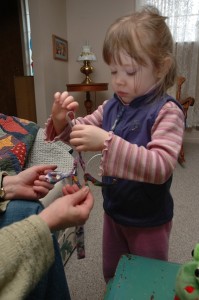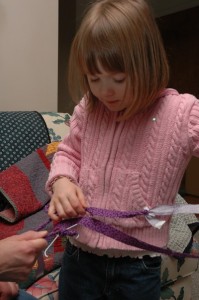 The finished dolls: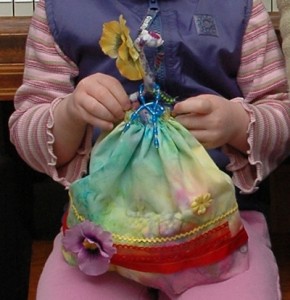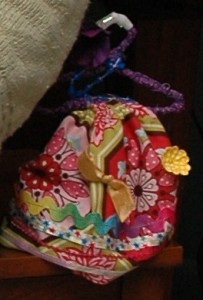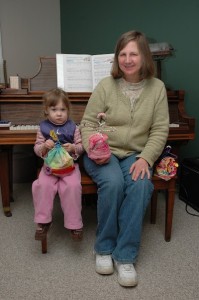 (photo above missing one camera shy little girl, and not the best photo, but oh well)
For the rest of their visit, the sweetie pictured played with the three art dolls, her older sister moved on to a doll house. And I watched them play while reading my new Cloth Paper Scissors magazine. These two very creative girls come by it naturally as their momma, Lisa Ransom Smith,  is a Pastels Artist.
Tags: Children and Art