Alas, my running record of 21 years without a rotary cutter mishap has just ended.

  I was busily working away on a quilt, when Yikes! I shaved off the side of my finger with the rotary cutter. There are way too many capillaries  in one's finger tips, I think.
Here are some quilt tops that might make you smile.  Hope so!
This quilt is made with Dilly Dally Fabric by Me and My Sister, the pattern is Got a Feeling by Abbey Lane. I like the large rick rack used as flower stems. Rick rack is making a come-back in the sewing world.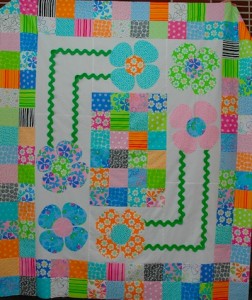 This fun quilt is made with Love My Dog fabric from the Playful Pups line by Benartex. The top is similar to a pattern found in the Fall 2010 Fons and Porter's Magazine by Debby Kratovil. I just changed it up a bit.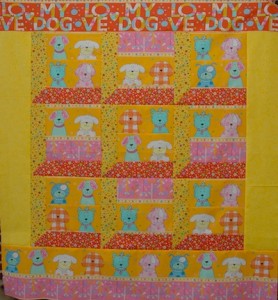 And this quilt is made with Peek-a-Zoo fabric by Henry Glass Fabrics.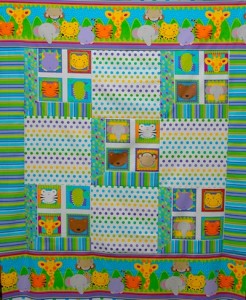 These three quilts are shop models for Fabric and Friends Quilt Shop, Roanoke, IN. 260-676-2149.